Just fourteen years old at the start of the Great Depression in 1930, Alfred Watson lived in a small house near the Ohio River with his mother, sister, grand-parents, and two uncles. His father had deserted the family in 1924, and the family was forced to survive solely on his Grandfather Thorn's $95 railroad pension.
The hardships of his childhood years in Pennsylvania. are reflected in his late Depression photographs.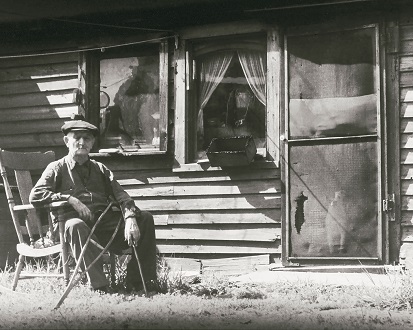 This image of a blind man sitting in front of his dilapidated house was taken in the late Depression in rural Pennsylvania.The battered front door with its torn screen gives visual proof of the hardship of his daily life. A dog can be seen looking outside.
This poignant image of a woman sitting by the side of the road was taken in rural Pennsylvania in 1940. The anguished look on the woman's face reveals the deprivation she and so many Americans faced on a daily basis during the Great Depression.
A young boy looks thru a storefront window at a small dog in Dormont, Pennsylvania during the late Depression. The detail of the boy's hat and coat adds to the scene as does the ad for wingtip shoes on the store's window.
A man sells socks from a suitcase in front of a Pennsylvania bank during the Depression. A notice on the bank's window you're " not too young to have a saving account. Late Depression image. Location of photo unknown.