In the Fall of 1946, Alfred Watson received a job promotion and relocated his family to Cheektowaga, New York, a few miles east of Buffalo. Commuting there for his job each day, Watson continued to photograph his favorite subjects in his spare time including downtown Buffalo and the people who lived and worked there.
WHITEMAN SONGS
This 1947 photograph shows people shopping at Whiteman Songs in downtown Buffalo. Named after band leader Paul Whiteman, this image reveals a variety of products for sale including records, toys and an RCA Victrola for $ 12.95. A postcard kiosk on the sidewalk welcomes Canadian tourists.
HOTEL HURON
This late 1940s view of downtown Buffalo, New York reveals the Hotel Huron in the background with its room rates of $1.50 a day. In the foreground, the Sunoco Oil and Texaco gas company signs are in view as is an ad for Beck's Beer.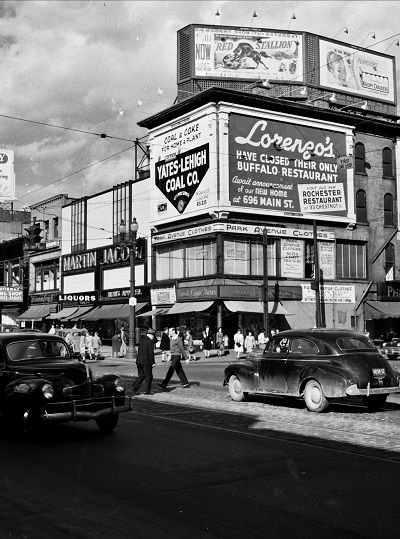 LORENZO'S RESTAURANT
This image of downtown Buffalo pictures the Martin Jacobi Clothiers men's store on the left and a notice of the closure of Lorenzo's Restaurant and its move to Rochester displayed on a nearby building. An ad for the Lehigh-Yates Coal Company is also visible.